About Me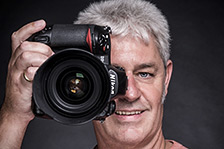 Born and raised in Cannock, Staffordshire, I joined the Army on leaving school at the age of 16 and served for 20 years before starting a second career in IT.
Predominantly self-taught, I have been taking pictures on and off for nearly 50 years. My Grandfather was an avid photographer and steam enthusiast, I grew up following him around steam fairs with my Kodak Brownie 127.
Over the years I have covered many genres of photography including; wildlife, portrait, beauty and social-documentary. As my interest in photography progressed I moved on through Zenit, Olympus and Canon to Nikon gear, I currently use D3s and D600 bodies, with a variety of nikkor lenses.
I enjoy working in the studio and outdoors, for portrait/beauty and wildlife photography. Both inspire an incredible range of ideas and images. The studio lets you take complete control, whereas with wildlife we can only ever hope to interact with it to capture the image and never have full control.